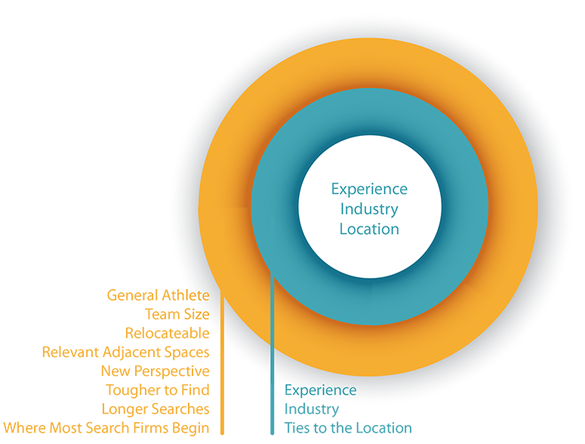 With our Concentric Circles™ methodology, we have created a common-sense solution to the toughest executive hiring problems in the industry.
Most established search firms try very hard to monetize their past work. In other words, you will first see candidates they already have relationships with. They will often strain or even ignore the job description to present those people they know already. After all, it's a lot less trouble – you have preexisting relationships and you don't have to do the legwork to find new candidates! While sticking with "in-house" candidates may provide executives who are competent, their candidacy is largely at risk due to all the variables: compensation, location, scope, title, everything.
If your search partner takes a holistic view – the "in-house" candidates as well as the rest of the marketplace – clients will receive the best candidates, but it can be overwhelming! At Star Wards, Inc., we preserve the integrity of our searches and provide the best candidates with our Concentric Circles approach.
The smallest circle represents the tightest search parameters: location, industry and experience. The first candidates we present are part of this circle – in the area, with the right industry background and with the required seniority/experience.
The next circle is not too dissimilar to the first: candidates with the right industry background, and the required seniority/experience, but perhaps they live in nearby metropolitan areas.
The next circle moves out from the last but the candidate can live anywhere but have ties to the metro area (e.g., those who lived there before during other phases of their career or during college).
The next circles begin to relax the seniority level – up-and-comers with the right industry experience with varying locations.
The final circles start to look outside of the industry – adjacent spaces, starting with the most advantageous location and seniority, and then working outward from there.
What you get in this methodology is the population with the greatest likelihood of success right at the outset, and then a growing population of candidates as time goes on in case the ideal candidate isn't surfaced immediately.
The practical effect of these circles? Time and again, the best candidate is at the beginning of our searches! It so surprises clients that they sometimes keep waiting for later candidates because so often other clients are finally bringing new names from the marketplace a few months into the search after hawking their "in house" candidates for weeks and even months. Some of our most successful placements have been introduced to the client in the first 2-3 weeks of a search, even if the search went on for several months longer.